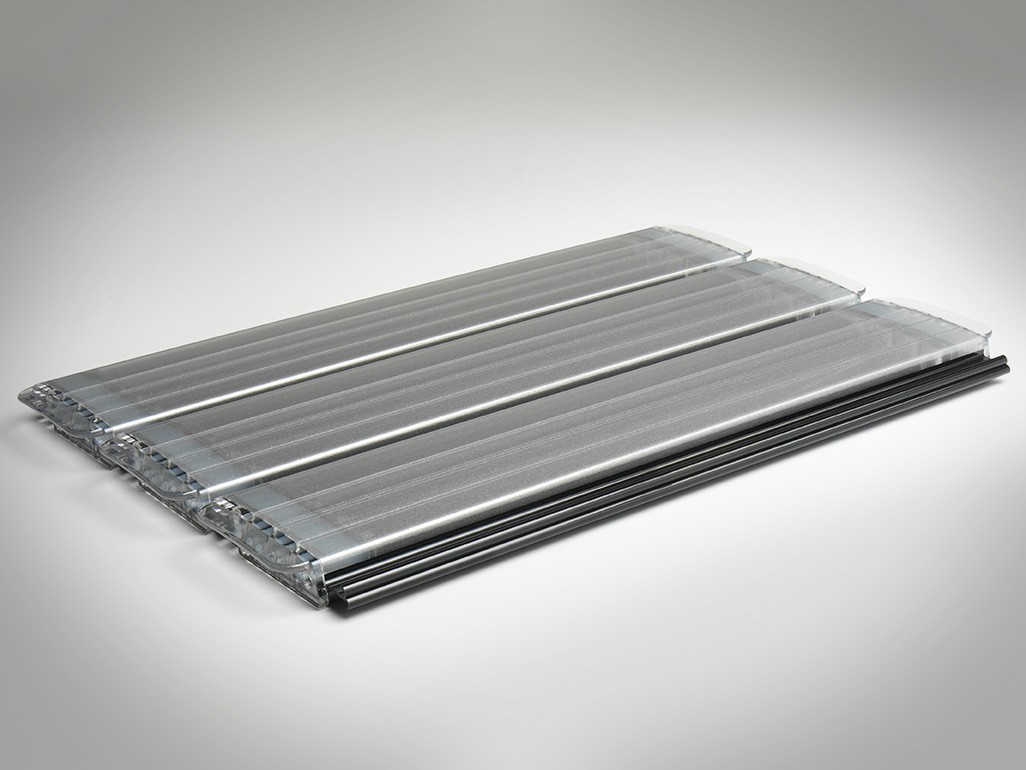 TRI stands for UV-resistant, Anti-algae and Impact-proof.
These TRI dimensions are expressed by a unique composition of polycarbonate, smart end-cap and perfect geometry. In this newsletter, we will discuss the greatest danger to the lifespan of slats: UV-Radiation.
Thanks to solar slats, the sun ensures that the swimming pool water is pleasantly heated for free. But this same sun is also responsible for damaging the plastic of the slats, causing them to age quickly!
BASED ON THIS DATA, (Re)Cover BV EMBARKED ON A SEARCH FOR THE MOST DURABLE MATERIAL FOR MANUFACTURING SLAT PROFILES.  
Polycarbonate is the most effective material: It is strong, impact-proof and very transparent. But apparently, polycarbonate also ages under the influence of UV-radiation (turns yellow and cracks).
How are the (Re)C TRI Slats protected against the harmful UV rays?
AddingUV stabilizers prevents the polycarbonate from losing its mechanical features, such as its impact-proof character.
A UV-blocking cap layeris a thin layer of plastic of 0.1 mm (a combination of polycarbonate, polyacrylate and UV-blockers) extruded on top of the slat. This external layer protects the inner layer against the rays that damage the plastic.
To make a clear comparison: "The skin of a person is the polycarbonate. It can resist sunlight quite reasonably, but it becomes visibly aged without protection (discolouring and wrinkles)."    
By rubbing suntan lotionon the skin, we prevent the skin from getting burnt and becoming vulnerable.
However, a sun blocker ensures that all UV-rays are blocked and cannot affect the skin.