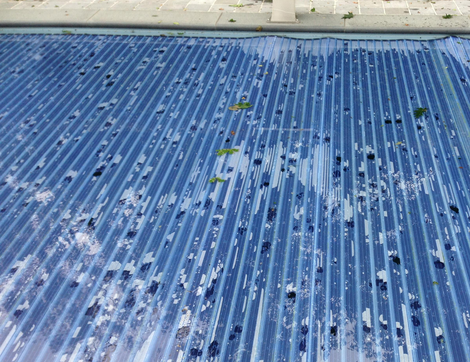 ONE OF THE MANY NEWSPAPER HEADLINES ABOUT THE EXTREME WEATHER CONDITIONS IN JUNE 2016: THERE IS ENORMOUS DAMAGE TO CARS, CARAVANS, ROOFS, CONSERVATORIES AND THE GREENHOUSE HORTICULTURE SECTOR. BUT THESE SUMMER HAILSTORMS CAN ALSO CAUSE DAMAGE FOR OWNERS OF SWIMMING POOLS THAT INCLUDE A SLAT COVER.
In the Netherlands, a summer hailstorm with stones that are 2 cm or more in diameter occurs in many parts of the country, on average five times per year. Almost every summer, even larger hailstones come down locally. Due to their weight, large stones are more dangerous than small ones. In addition, they impact at a faster speed. Spherical stones of 3 cm achieve a speed of 50 km/h; 6 cm stones weigh about 100 grams and come down at 120 km/h and larger stones can achieve a speed of 300 km/h. Imagine what impact that has on your slat cover!
We learned from querying a number of big insurers that a swimming pool cover is still insured on condition that it is included in a fire insurance policy. Roller shutters, which were not rolled up on time during a severe hailstorm, are still insured.
The question is whether this will remain as it is. The climate changes rapidly and who knows what insurers will decide in the future?
Based on data from 2000 through 2013, it is clear that storms, hailstorms and extreme rainstorms cause the most weather-related damage. Interpolation of this analysis to the scenarios of the Royal Netherlands Meteorological Institute (KNMI) provides a clear picture of the expected damage caused by climate change. Most important conclusion: without measures, the damage caused by hailstorms / extreme hailstorms is expected to double. In the most unfavourable climate scenario, the damage from precipitation (rain and hail) will increase by 139%.
The KNMI scenarios do not provide exact figures about the increase in hailstorms. However, the institute states that hailstorms will occur more frequently in the future. The KNMI expects that extreme hailstorms in 2050 will occur twice as many times as in the period 1981-2010.
Insurers in other European countries (e.g., the insurers in Switzerland) have already taken measures to restrict the extremely high damage claims. These insurers set requirements regarding the quality of the basic material and the end-product for the different product groups, such as roller shutters, roofs and façades.
These product groups also include slat covers for swimming pools. An independent testing institute carried out hail tests on covers: 'bullets' of different sized were 'fired' onto the frozen slats at a speed of 110 km/h. Based on these tests, it issued a Hail-Resistance Class that is included in a public hail register. Insurance companies prescribe which Hail-Resistance Classes will be insured and which ones will not be insured. Private individuals and companies can peruse this prior to purchasing a product. Click here for more information.
RECENTLY, THE POLYCARBONATE TRI-EXTRUSION SOLAR SLATS OF (RE)COVER WERE INCLUDED IN THIS HAIL REGISTER WITH THE HIGHEST POSSIBLE SCORE OF HW5. THIS MEANS THAT THESE SLATS WILL NOT SUFFER FUNCTIONAL DAMAGE IN CASE OF 5 CM HAILSTONES. IN ADDITION TO HAIL RESISTANCE, THESE SLATS ALSO ACHIEVED A VERY HIGH SCORE FOR UV RESISTANCE. FOR MORE INFORMATION ABOUT THIS NEW GENERATION OF SLATS, PLEASE CONTACT (RE)COVER BV.